Hey y'all! I'm here again with a book post. It's like I'm only consistent when it comes to bookish contents. I realized I made a mistake in the newsletter I sent. I actually read 8 books and not 7 books in April. Safe to say your girl had a decent month bookwise.
I read eight books in April. Here's a list with mini-reviews.

Tweet
I've been wanting to write more reviews but I've also been lazy AF and the struggle to balance laziness and productivity in this trying time is quite real. Also, WordPress frustrated me a lot last week but it's finally been resolved. Whew! Anyway, here's a list of the books I read in April with mini or not so mini reviews. Enjoy
The right swipe – Alisha Rai
I was today years old when I found out it's the first book in the Modern love series. I don't think we need a book 2 but what do I know about these things? Okay so I guess I would say this book falls under Romance in the tech world. Ish. I listened to the audiobook. The story centres on the life of Rhi a young lady who was ghosted by a popular footballer in the past and has since then not had any decent dating experience. I guess being ghosted especially after a date that went well does that to you. Years later, she meets him again and she has to confront feelings she had buried. It appears like a fun light read but it progressively gets heavy.

Oh and it gets very steamy! 😉
A love hate thing – Whitney D. Grandison
The cover and the blurb caught my attention and I knew I had to read it. It centers on the lives of two black teenagers from different socioeconomic backgrounds who were childhood bestfriends. They got separated but as fate or tragedy would have it, they reunite years later and aren't sure they can reignite their frienship. Themes here are grief, friendships, family, and love. I particularly loved how the female friendships weren't ruined by boys as you'd typically see in most books.
How to hack a heartbreak – Kristin Rockaway
' By day, Mel Strickland is an underemployed helpdesk tech at a startup incubator, Hatch, where she helps entitled brogrammers—"Hatchlings"—who can't even fix their own laptops, but are apparently the next wave of startup geniuses. And by night, she goes on bad dates with misbehaving dudes she's matched with on the ubiquitous dating app, Fluttr. But after one dick pic too many, Mel has had it. Using her brilliant coding skills, she designs an app of her own, one that allows users to log harrassers and abusers in online dating space. It's called JerkAlert, and it goes viral overnight.'

I really enjoyed this. It's that Romcom you don't think you need until you read it! It explores modern day dating and the struggles. Great plot and relatable characters! Another plus is that it's so fast paced, you can finish it in a day! Yo. Can someone create a similar app in Nigeria? Pretty please!
Tiffany Sly lives here now – Dana Davis
Really good story. This is a book about a black teenager, Tiffany Sly whose life changed the day her mother dies of cancer. She had to move in with a man who is supposedly her father and his family. Tiffany struggles to adjust to her new life with her new family as her father is this really strict, controlling and excessively religious man with ridiculous rules. She was diagnosed with anxiety and OCD (Although they mentioned the OCD once or twice in the entire book) while her mother was still alive. The book explores a bit about Jehovah witness and their practices. The themes here were family, mental illnesses, religion/faith and sexuality.

I love the way Dana wrote about Tiffany. She's a character you'll absolutely love, flaws and all. She is smart, sassy, strong willed, kind and empathetic. You can listen to the audiobook on Scribd.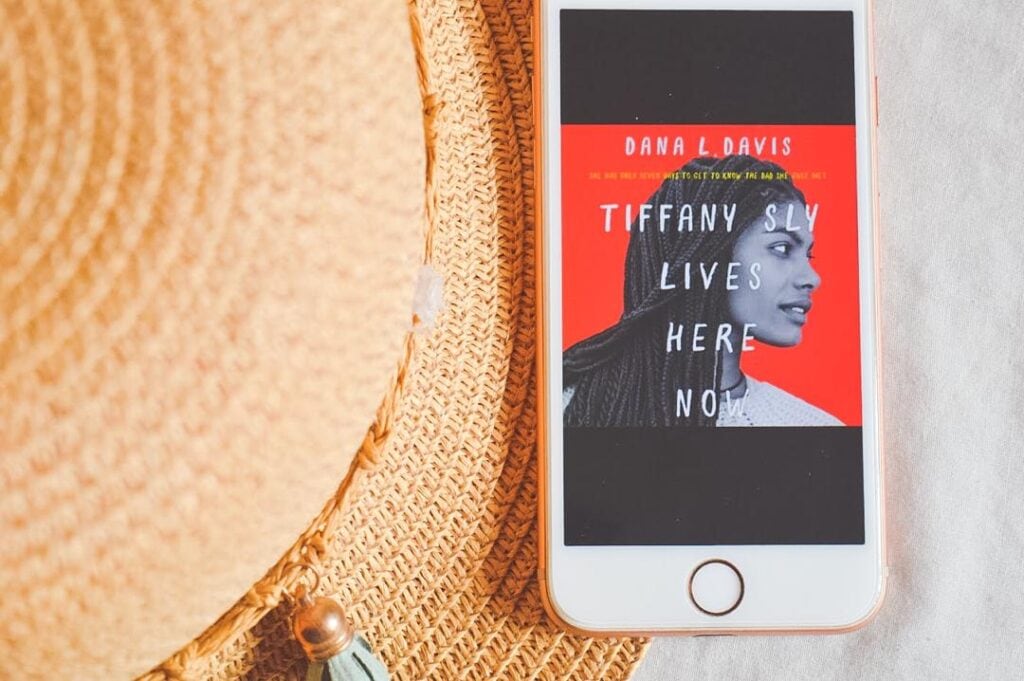 Americanah – Chimamanda Ngozi Adichie
I reread this and I can absolutely tell you it's worth a read. It's one of those books you should read at least once in your life as it 100% lives up to the hype. I wrote a review which you can read here.
There is an upcoming miniseries based on this book which will be starring Lupita, Uzo Aduba and Zackary Momoh. Exciting! I 100% see all of them killing these roles.
The girl with the louding voice – Abi Dare
It is a good story and you might enjoy it. I'll recommend it if you love a good old Nollywood, 'uneducated girl from village goes to the city to become a maid' story. I'm Nigerian and I won't lie, I'm quite tired of this storyline -in books and movies.
This book tells the story of Adunni, a Nigerian teenager who was raised in a village where education means nothing except you're a male child of course. Adunni's life goal is to be educated and have 'a louding voice'. To have a voice worth listening to in the society and this book takes us through her journey in life. She talks about her challenges, her setbacks, and her victories. This is why I was somewhat disappointed in the book because I love the story but I couldn't stand most of the dialogues. The girl with a louding voice is written from Adunni's POV. Adunni is uneducated. So, expect lots of grammatical errors. The book has heavy themes. Themes we should never stop talking about -Child marriage and maltreatment of domestic workers in Nigeria.
Gone girl – Gillian Flynn
I've always known about this book and the movie. This book has been sitting pretty on my shelf for years and I wonder why i never read it earlier. Gone girl is gripping story about a couple whose lives turned upside down on their fifth anniversary when the wife went missing. It alternates between Nick the husband from the day his wife went missing to Amy's diary entries years before she went missing telling us about how they met and their marriage.
Gone girl is a page turner and once you start, you most definitely will want to finish it, preferably in one sitting because it is so engrossing, strange and mind blowing. Gillian Flynn is a brilliant writer because even when she gave us the readers clues, she still made sure she had her 'Gotcha!' moment at the end. What a legend! If you're a lover of psychological thrillers/mystery then this one is for you.
American Street – Ibi Zoboi
I really enjoyed this. It's a story of a young immigrant, Fabiola Toussaint from Haiti who got separated from her mother on her way to America as her mother was detained by US immigration. She had to start her immigrant journey alone while she waited to be reunited with her mother. This book tells a story of her new life in a America with her aunt and cousins, her struggles with the culture shock and living the life she had only been dreaming of.
I loved that Ibi Zoboi found a way to infuse romance into it all and I was here for all of it! I may even go as far as saying her relationship with Kasim was my favorite part of the book. The audiobook narrator was so good. If you can, please listen to the audiobook instead. Click here to listen.
Sorry guys but I can't promise you won't cry after reading this book but nobody ever died from crying. So, I say you go for it!

Tweet
---
This wasn't meant to be a book recommendation post but I'd actually recommend all the books on this list.
BTW, I started a virtual book club in January. You should join if you're interested by clicking this link to get started. I'd really love for you to read the book of the month and join us for the book discussion on twitter on the 31st of May.