Hello friends. I hope you're all doing well. Thanks for the love on the last post. I got a few messages and they were all so sweet. Being vulnerable and open isn't the easiest thing but we move!
So, I came across my friend's Instagram post on working online and thought it'd be a great idea to interview her on the blog. Although, I am a bit lazy when it comes to working online, I am always here for the extra cash. It'll be selfish of me to find ways to spread the word and direct people to where they can get help getting started and not do it.
I met Clementine in Medical School, we became friends easily. We've been friends for 12 years and if there's one thing I know about her it's that she's very determined to achieve whatever she sets her mind to.
She is now a Medical Doctor, an entrepreneur, travel blogger, and a remote work expert. She gives the best tips and I'm not just saying this because she's my friend.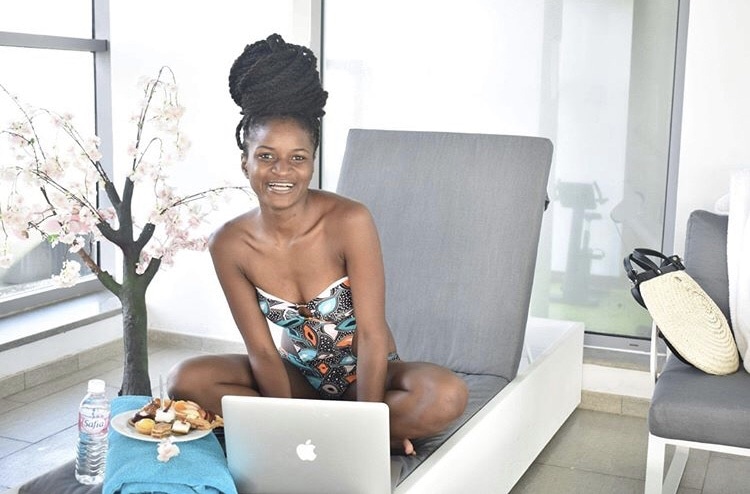 Alright so here's how the chat went.
Hello Clementine! Thanks for agreeing to do this. First of all , how are you doing with all that's happening in the world ?
I think I'm doing alright. All things considered. It's been more challenging than I thought it'd be. Not because I'm working from home but just adjusting to the reality of things and being able to stay focused not knowing when things are going to get better but I'm doing well, thanks for asking.
I can imagine. It's really a lot having to accept the uncertainties. I've been following your videos on Instagram and your blog for some time now and would like to know how you got started with making money online?
I started working online before this whole COVID-19 thing. 8-9 years ago. I was in medical school. I had just finished my basic science programme when my mother told my sister and I we were going to go through some financial difficulties. She lost her job and although she had some savings, We needed money not only to pay our fees but also for our daily expenses. I couldn't work as a student because my student visa wouldn't allow onsight employment. So i had to think of a way to make some money to at least attend to my basic needs even if i couldn't immediately start my clinical rotations.
Oh wow.
Yeah, I reached out to a friend who had told me she was working online. She introduced me to an online working platform and I decided to give it a try. I applied to a few jobs and landed my first job doing translations in the medical field.
That's inspiring. So have you worked online since then or you've stopped along the way as you had to resume school?
Since then i've worked online consistently. It has brought money so why stop? haha. I have since then adjusted the way I work online. Sometimes, I work full time, other times, part time.
How much did you make in your first year working online?
To be honest, I wasn't really tracking it. I was basically using it for my daily expenses and eventually used it to travel for my clinical rotations. The money I made was able to cover my travel to the UK, Australia and the US for clinical rotations three months at a time.
Ah. Alright. I assumed you kept track of it.
I didn't really keep track of it because it was more like a hand to mouth thing. I actually didn't think it was something i was going to do long term but here I am , 8 years later. HAHA I am actually tracking it now.
Now that you're tracking it, how much do you make monthly/yearly?
I easily make between $40-60k yearly (as a side hustle) depending on how proactive I am.
Okay, so what are the the prerequisites to getting a job online? Like do you need a real life job experience in whatever field you're applying for?
To get a job online, you actually don't need to have experience but if you do have some experience then you can actually transfer your skills into different job opportunities online. Even if you don't have these skills, you can learn some for free.
What kind of jobs are mostly available?
There are different categories of jobs, ranging from customer service to data entry, writing, virtual assistant. I also advice people to go for jobs that best fit the skills they have or skills they want to learn. When you adjust your focus, you'd see a lot more jobs in your categories.
Can you share some websites our readers can get started on?
Sure, Upwork, freelancer, fiverr.
That'll be all for now. Thank you for this chat, Clem!
You're welcome. 🙂
Clem has a crash course on working online coming up soon so you might want to take advantage of that. Read all about it here.
You can definitely reach out to her on these platforms to find out more. Her Blog , Instagram , and Facebook
---
I hope you were as inspired as I was. This is definitely something to consider getting into.
---
Have you ever worked online? How was it for you?